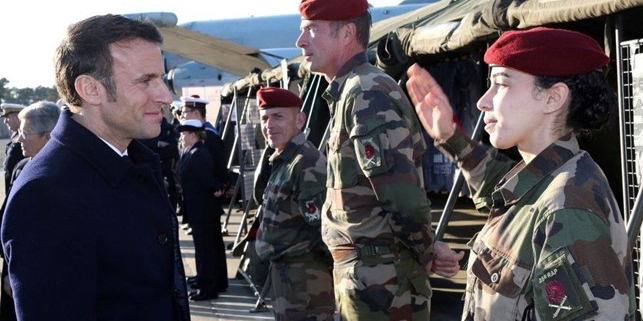 France's Macron proposes big rise in defence budget
Published: 21st January 2023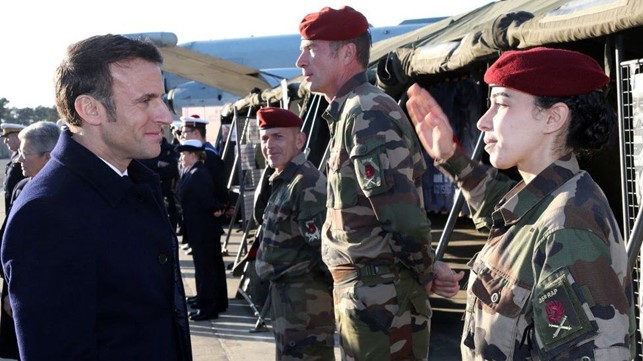 IMAGE SOURCE,GETTY IMAGES Image caption,
President Macron gave details of his proposals to refocus the French military at an airbase in south-west France
By Paul Kirby
BBC News
French President Emmanuel Macron has detailed plans for a major boost to the armed forces, to meet modern threats including Russia's war in Ukraine.
The next seven-year budget would increase to €413bn (£360bn) from 2024-30, up from €295bn, he said.
First France had to repair and restock its armed forces, then transform them, he told soldiers at Mont-de-Marsan airbase in south-west France.
"We must not do the same with more, we have to do better and differently."
Russia's invasion of Ukraine has prompted Western countries to review military spending – and in many cases, increase it significantly.
Meanwhile, the Kremlin has outlined plans to increase the number of combat soldiers from 1.15 million to 1.5 million. President Vladimir Putin said this week that Russia's powerful defence industry left him in no doubt that victory in Ukraine was assured.
President Macron acknowledged on Friday there were no more post-Cold War "peace dividends" now that Russia had invaded Ukraine, so the aim was to renew a military that protected France's freedom, security, prosperity and place in the world.
Key to his reforms are a 60% hike in the military intelligence budget, adapting to "high-intensity" conflict with investment in drones, cyber-defence and improved air defences.
"We need to be one war ahead," he warned.
---
This is an interesting development as France and Germany are the key leaders of the EU and both are planning major increases to their defence spending. And we know from Bible Prophecy that the EU will be with Russia when they come down into the Middle East with what is described as a massive army:  ""15 And thou shalt come from thy place out of the north parts, thou, and many people with thee, all of them riding upon horses, a great company, and a mighty army: 16 And thou shalt come up against my people of Israel, as a cloud to cover the land; it shall be in the latter days…"  Ezekiel 38:15-16
So, WATCH this development as it is a sure sign that we are living in the last days before Christ's Return.
This EU SUPERSTATE will along with Russia enter into a final conflict with Israel and the Middle East.  Germany is the key country in what Bible Prophecy refers to as the land of "Magog". They are spoken of militarily as the "King of the North".  Together the Bible says that Russia and the EU will invade the Middle East in the Last Days.  So Bible Students expect to see Germany and France taking a greater role in leading Europe.  It is also interesting to see Germany taking greater control of a continent they tried to take by war and failed.
Yet again we see in Today's News Headlines words that show how the Nations are fulfilling the latter-day alignment of Nations as Prophesied by the Bible.
See this article to learn more about this and the latter-day prophecies of the Bible.
See this article for more on this subject: WHAT IS NEXT FOR EUROPE