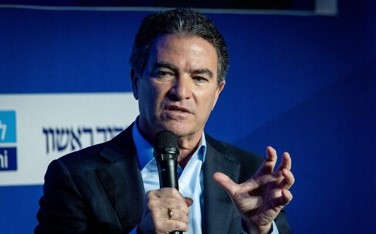 Deal between Israel and Saudi Arabia is 'absolutely possible,' says ex-Mossad chief

Yossi Cohen, citing 'personal knowledge' of potential dealings, strikes optimistic note, as senior Netanyahu aides said to be headed for Washington
By LAZAR BERMAN Today, 9:05 pm  
Former Mossad chief Yossi Cohen speaks at a conference of the Makor Rishon newspaper at the International Convention Center in Jerusalem, February 21, 2022. (Yonatan Sindel/ Flash90/ File)
Against a backdrop of measured optimism from Jerusalem over the chances of a normalization deal between Israel and Saudi Arabia, former Mossad chief Yossi Cohen said Sunday that such an agreement was "absolutely possible."
Speaking at the Institute for National Security Studies, Cohen — Israel's top spy from 2016-2021 — said, "in my opinion – and here I am leaning on personal knowledge on the topic — it is absolutely possible."
"There is indeed in the Middle East a new era in which brave leaders… know how to create normalization," he added.
There has been a flurry of reports that US-brokered talks between Jerusalem and Riyadh on starting direct flights for Hajj pilgrims are in advanced stages.
A flight deal could have the potential to lead to a wider normalization deal — which has long been sought by Israel but largely rejected by the Saudis.
In exchange for full normalization with Israel, Saudis are said to be demanding that the White House unfreeze some Trump-era weapons deals that were frozen when US President Joe Biden took office, and are also seeking a defense treaty with the US, similar to NATO, as well as the US stamp of approval for a civilian nuclear program.
---
This has been an ongoing development since the efforts of former President Donald Trump to bring about Peace in the Middle East.  This is not surprising to Bible Students as we fully expect to see this development based on Bible Prophecy that has foretold the alignment of Nations in the "latter days".  The Bible describes a King of the North and a King of the South Geo-political Alignment of Nations in the last days prior to the last battle of mankind and the intervention of Christ to established God's Kingdom on Earth Forever.  We read of this in Daniel Chapter 11:
"And at the time of the end shall the king of the south push at him: and the king of the north shall come against him like a whirlwind, with chariots, and with horsemen, and with many ships; and he shall enter into the countries, and shall overflow and pass over. He shall enter also into the glorious land, and many countries shall be overthrown: but these shall escape out of his hand, even Edom, and Moab, and the chief of the children of Ammon. He shall stretch forth his hand also upon the countries: and the land of Egypt shall not escape. But he shall have power over the treasures of gold and of silver, and over all the precious things of Egypt: and the Libyans and the Ethiopians shall be at his steps. But tidings out of the east and out of the north shall trouble him: therefore he shall go forth with great fury to destroy, and utterly to make away many. And he shall plant the tabernacles of his palace between the seas in the glorious holy mountain; yet he shall come to his end, and none shall help him."
You can read more about this in this article: Alignment of Nations in the Latter Days