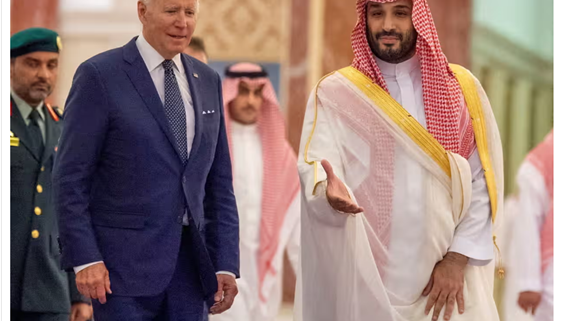 US-Saudi talks amid reports of far-reaching diplomatic plan for Middle East
But Jeddah's demands for brokering an Israeli-Palestinian respite are reportedly a 'non-starter' and a 'sucker's bet'
Julian Borger in Washington  Published: Thu 27 Jul 2023 22.53 BST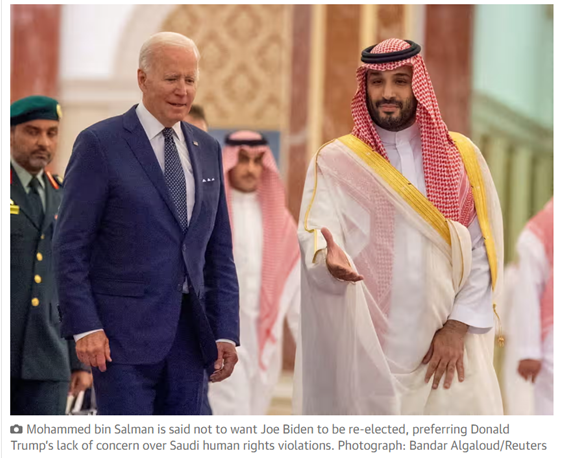 The US national security adviser, Jake Sullivan, has held talks with the Saudi crown prince, Mohammed bin Salman, in Jeddah, in what was reported to be part of a bid for an ambitious and far-reaching diplomatic breakthrough in the region.
The White House said Sullivan and the prince discussed on Thursday "initiatives to advance a common vision for a more peaceful, secure, prosperous and stable Middle East region interconnected with the world".
A New York Times columnist, Thomas Friedman, said that based on an interview with Joe Biden last week, he believed Sullivan went to Jeddah to "explore the possibility of some kind of US-Saudi-Israeli-Palestinian understanding".
The deal would amount to a grand bargain involving a US-Saudi security pact and the normalisation of Saudi-Israel diplomatic relations, in which recognition of Israel would be exchanged, on Washington's insistence, on some improvement in the plight of Palestinians in the occupied territories, such as a halt to Jewish settlement building, and a promise never to annex the West Bank.
Friedman said Biden had yet to make up his mind whether to proceed and the talks in Jeddah were exploratory. Any such deal, he said, would be "time-consuming, difficult and complex".
---
This has been an ongoing development since the efforts of former President Donald Trump to bring about Peace in the Middle East.  This is not surprising to Bible Students as we fully expect to see this development based on Bible Prophecy that has foretold the alignment of Nations in the "latter days".  The Bible describes a King of the North and a King of the South Geo-political Alignment of Nations in the last days prior to the last battle of mankind and the intervention of Christ to established God's Kingdom on Earth Forever.  We read of this in Daniel Chapter 11:
"And at the time of the end shall the king of the south push at him: and the king of the north shall come against him like a whirlwind, with chariots, and with horsemen, and with many ships; and he shall enter into the countries, and shall overflow and pass over. He shall enter also into the glorious land, and many countries shall be overthrown: but these shall escape out of his hand, even Edom, and Moab, and the chief of the children of Ammon. He shall stretch forth his hand also upon the countries: and the land of Egypt shall not escape. But he shall have power over the treasures of gold and of silver, and over all the precious things of Egypt: and the Libyans and the Ethiopians shall be at his steps. But tidings out of the east and out of the north shall trouble him: therefore he shall go forth with great fury to destroy, and utterly to make away many. And he shall plant the tabernacles of his palace between the seas in the glorious holy mountain; yet he shall come to his end, and none shall help him."
You can read more about this in this article: Alignment of Nations in the Latter Days