WORLD-WIDE CLIMATE CHANGE
Our climate is changing before our eyes': Greenhouse gases, sea-level, ocean heat and ocean acidification all reached record highs in 2021, damning WMO report reveals
Four key climate change indicators set new records in 2021, a new report shows
Greenhouse gas concentration; sea level rise; ocean heat; & ocean acidification
World Meteorological Organization published State of the Global Climate report
It confirmed that past seven years have been the warmest seven years on record 
PUBLISHED: 18:00 AEST, 18 May 2022 | UPDATED: 18:13 AEST, 18 May 2022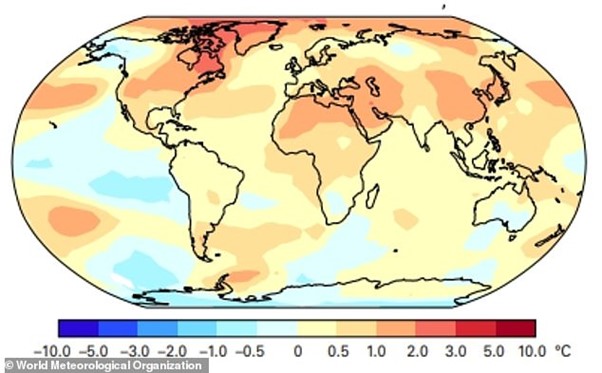 Four key climate change indicators reached record highs last year, a damning new report has revealed, as experts warn that global warming is 'leaving no corner of Earth untouched'.
Greenhouse gas concentrations, sea level rise, ocean heat and ocean acidification all broke records in 2021, according to the World Meteorological Organization (WMO).
Its State of the Global Climate in 2021 report also confirmed that the seven years from 2015 to 2021 have been the warmest since the industrial revolution, with 2016 being the warmest year on record.
WMO Secretary-General Professor Petteri Taalas said it was further evidence that 'our climate is changing before our eyes'.
He also added that it was 'just a matter of time before we see another warmest year on record'.
---
Despite the reality of Climate Change and the problems it is presenting to the world, we need not fear as God has a Plan and a Purpose with this Earth and Mankind upon it.  SEE THIS ARTICLE God's Purpose with the Earth Read more

https://truebibleteaching.com/wp-content/uploads/2022/06/ClimateChange.jpg
373
602
Steve
https://truebibleteaching.com/wp-content/uploads/2022/01/TBT-logo-with-tag-line-300x66.png
Steve
2022-06-07 18:38:54
2023-09-20 09:36:10
WORLD-WIDE CLIMATE CHANGE