My Father's House has many Mansions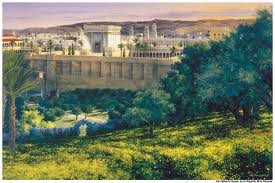 "In My Father's House are Many Mansions…"
This is a passage of Scripture, in John chapter 14 verse 2, which causes some people to believe that Jesus was offering a place in heaven but, as Mark Buckler explains, the Lord had something quite different in mind.
Jewish Book
Many of us easily forget, when we read the Bible, that it is a Jewish book, written mainly by Jewish writers about Jewish people.  It is so easy for us to read it with two thousand years of ideas and interpretations in our minds that we forget to ask a simple question:
What did the writers of this passage understand by it when they wrote it and what did their readers or hearers understand?
So, when Jesus talked about the many rooms in his Father's house, what did he mean by this and what would his hearers have understood?
Incidentally, this is a passage that is often read in church funeral services and today it is thought to promise an inheritance with God in heaven.  Is that what Jesus meant?
God's House Read more

https://truebibleteaching.com/wp-content/uploads/2022/01/fathershouse2.jpg
354
541
Steve
https://truebibleteaching.com/wp-content/uploads/2022/01/TBT-logo-with-tag-line-300x66.png
Steve
2022-01-21 13:11:36
2023-09-20 09:36:41
My Father's House has many Mansions