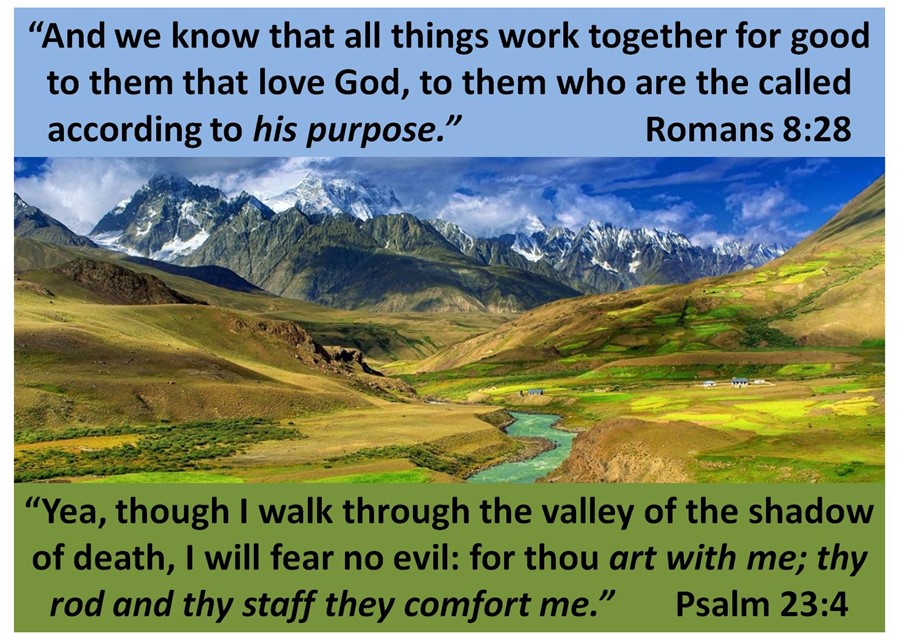 Everything Working for OUR Good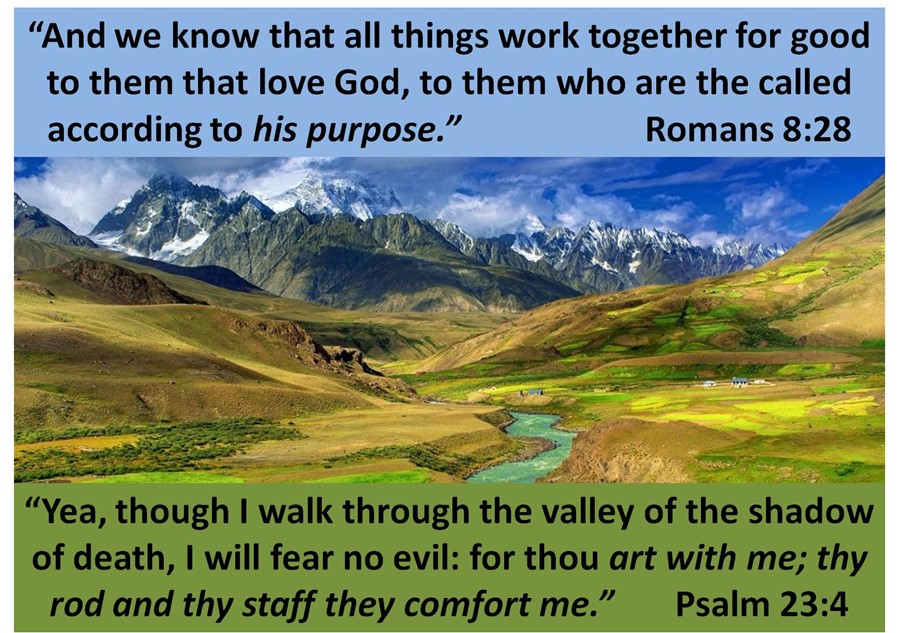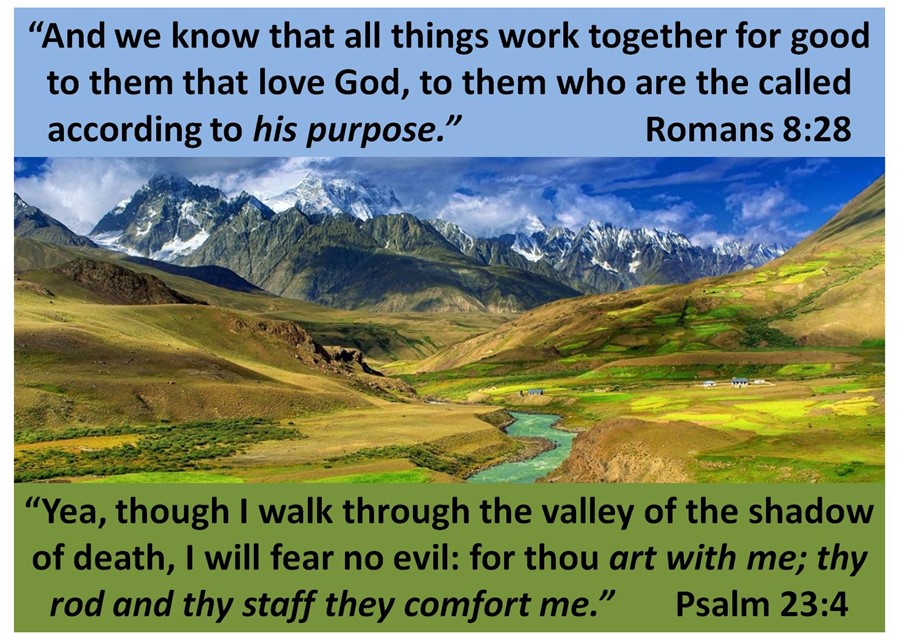 "We know that all things work together for good to those who love God, to those who are the called according to His purpose" (Romans 8:28).
Whilst I was reading a commentary on Romans 8:28, I was reminded of the times when people reassure a hospital patient, or someone who has been in an accident, that they're not to worry; that everything will be all right. On a first aid course, we are told to comfort the patient. Even if we were to fear the worst, our words are meant to instil confidence. We wouldn't be so cruel as to say "you may lose a leg", or "you may not recover from your heart attack".
To give words of comfort is the best thing to do, knowing that the patient will soon be in safe hands although the outcome could be serious.
Real Reassurance
In the verse quoted above from Romans chapter 8, we have a different scenario. Paul is giving 100 per cent assurance to Christians.
Unlike ourselves at the scene of an accident, Paul spoke with authority. He was a man called by God, and well aware of the blessings brought about through the sacrifice of the Lord Jesus Christ. Because of this knowledge, he could make the statement above with absolute confidence.
The assurance that Paul gives cannot apply to everyone. It is directed at those who love God, and to those who are called in line with His purpose.
If you love God then there is a real relationship: For as many as are led by the Spirit of God, these are sons of God (v14).
What does it mean to love God? It means to be obedient to Him and to obey His commandments:
In all your ways acknowledge Him, and He shall direct your paths (Proverbs 3:6).
Throughout his life, Paul was no stranger to suffering, persecution and hunger. He accepted these things because he loved God and through his conversion he had been called to God's purpose. This purpose is that all the earth should be filled with God's glory in a divine eternal Kingdom. So, for those who are called by God and are baptised into the saving name of the Lord Jesus, all things do work together for good. 'Good' is both the objective and the reward.
A Living Reality
However, it is wrong to think that our life will be without difficulties and disappointments.
Let us look at some passages from the Bible:
[Paul was] strengthening the souls of the disciples, exhorting them to continue in the faith, and saying, "We must through many tribulations enter the kingdom of God" (Acts 14:22).
These things I have spoken to you, that in me [Jesus] you may have peace. In the world you will have tribulation; but be of good cheer, I have overcome the world (John 16:33).The 'good' in Romans 8:28, is not how much wealth we have, or our comfortable home or good health. It is conformity to Christ and acceptance by him to a place in the kingdom of God.
Elsewhere in the chapter, Paul writes:
For I consider that the sufferings of this present time are not worthy to be compared with the glory which shall be revealed in us (Romans 8:18).
For whom He foreknew, He also predestined to be conformed to the image of His Son, that he might be the firstborn among many brethren. Moreover whom He predestined, these He also called; whom He called, these He also justified; and whom He justified, these He also glorified (v29–30).
We also have examples in the Bible of the glory still to come in the kingdom of God. Consider the last words of David:
He shall be like the light of the morning when the sun rises, a morning without clouds, like the tender grass springing out of the earth, by clear shining after rain. Although my house is not so with God, yet He has made with me an everlasting covenant, ordered in all things and secure. For this is all my salvation and all my desire; will He not make it increase? (2 Samuel 23:4–5).
There are two especially important words in verse 5: 'although' and 'yet'.
We know that David sinned before God and that he was punished. So, he says that although his house was not perfect, yet God still made a covenant with him. So, to this man who loved God, all things were working together for good.
A Living Pattern
In the Letter to the Hebrews we find the greatest example of all things truly working together for good.
This is in the life of the Lord Jesus Christ.
Therefore we also, since we are surrounded by so great a cloud of witnesses, let us lay aside every weight, and the sin which so easily ensnares us, and let us run with endurance the race that is set before us, looking unto Jesus, the author and finisher of our faith, who for the joy that was set before him endured the cross, despising the shame, and has sat down at the right hand of the throne of God (Hebrews 12:1–2).
In summary, the writer is exhorting us to prepare ourselves properly as if in a race. In doing so, we copy and follow the Lord Jesus Christ.
The writer lists just some of the dreadful things that the Lord endured, when he was put to death on the cross.
And he did it by faith in the promise of God, by which (in faith) he saw the joy before him, and encouraged by this prospect he was sustained and triumphed, and is now at his Father's side in heaven.
We may not be asked to give our lives, but we do have the example of the Lord Jesus to follow. If we do this faithfully, then when the Lord returns to establish his Father's kingdom, we may be invited to share in the glory that will follow.
We will then be able to fully appreciate just how all things really will have worked together for good, to those who love God.
By Roy Soffe