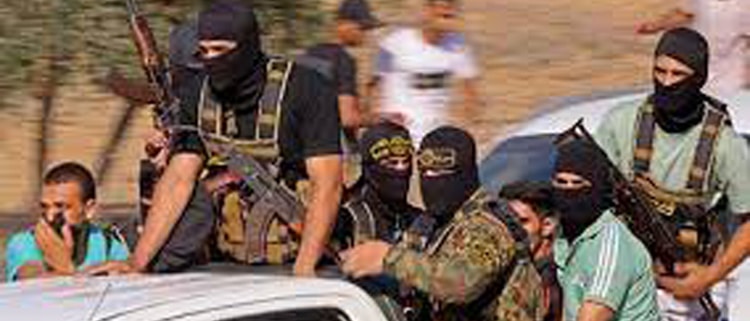 Israel is at war with Hamas
The Israeli military has told all civilians in Gaza City to evacuate "southwards" as it maintains its bombardment of the coastal enclave in response to last weekend's Hamas attacks that killed more than 1,400 people.
Here's what we know so far.
What happened?
Militants from Gaza fired thousands of rockets towards Israeli towns on October 7, before breaking through the heavily fortified border fence with Israel and sending militants deep into Israeli territory. There, Hamas gunmen killed more than 1,400 people, including civilians and soldiers, and took up to 150 hostages, according to Israeli authorities.
The attacks were unprecedented in tactics and scale as Israel has not faced its adversaries in street battles on its own territory since the 1948 Arab-Israeli war. It has also never faced a terror attack of this magnitude that has taken the lives of so many civilians. While Hamas has kidnapped Israelis before, it has never before taken dozens of hostages at once, including children and the elderly.
A senior Hamas official in Lebanon told a Russian state-backed channel that the group had been preparing for the attack for two years.
Hamas called the operation "Al-Aqsa Storm" and said that it was a response to what it described as Israeli attacks on women, the desecration of the al-Aqsa mosque in Jerusalem and the ongoing siege of Gaza.
They said the bodies of some 1,500 Hamas fighters had been recovered inside Israel since Saturday's assault.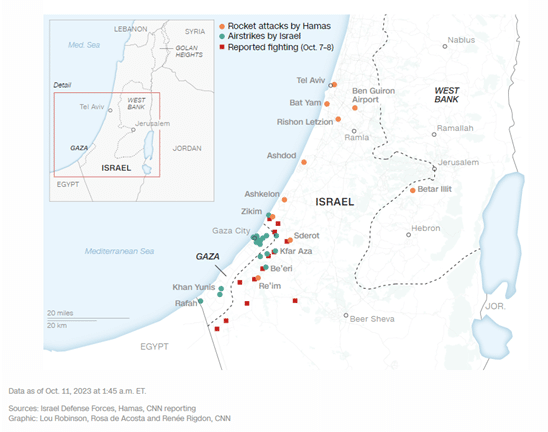 How has Israel responded?
In response to the attack, Israel has declared war and launched "Operation Swords of Iron," striking what it says are Hamas and Islamic Jihad targets in Gaza. It has also blocked supply lines of basic necessities to the Gaza population, including fuel and water.
Between October 7 and 12, Israel dropped 6,000 bombs on the densely inhabited territory – that's equivalent to the total number of airstrikes on Gaza during the entire 2014 Gaza-Israel conflict, which lasted 50 days.
Children make up "between 30% and 40% of the wounded" in Israel's airstrikes on Gaza, British-Palestinian surgeon Ghassan Abu-Sittah told CNN's Christiane Amanpour on Thursday.
The IDF has told civilians in Gaza to leave their residential areas immediately for their safety, but some say there is nowhere safe to go. All crossings out of Gaza have been shut.
Israeli Minister of Defense Yoav Gallant said on Monday that he had ordered a "complete siege" on Gaza, blocking delivery of electricity, food, fuel and water. Energy Minister Israel Katz has said supplies will remain cut off until hostages being held by Hamas are freed.
Israel on Wednesday formed an emergency government and war management cabinet.
On Friday, Israel's military told the 1.1 million people in northern Gaza to evacuate their homes immediately.
CNN has geolocated and authenticated five videos from the scene of a large explosion along one of the evacuation routes for civilians south of Gaza City.
The videos show many dead bodies amid a scene of extensive destruction. Some of those bodies are on a flat-bed trailer that appears to have been used to carry people away from Gaza City. They include several children. There are also a number of badly burned and damaged cars.
It's unclear what caused the widespread devastation; the explosion occurred on Salah al-Deen Street on Friday afternoon.
IDF spokesman Lt. Col. Peter Lerner told CNN in an interview on Sunday that the Israeli military did not strike the convoy on Salah Al-Deen street.
---
One thing is certain, this current conflict shows that only with Christ's Promised Return will there be True and Lasting Peace.
See more here: