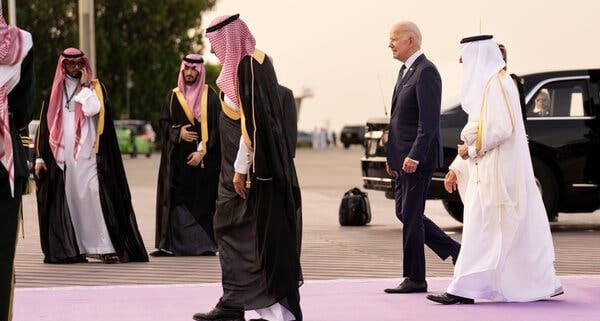 Biden Administration Engages in Long Shot Attempt for Saudi Israel Deal
The president and his aides are pressing an aggressive diplomatic effort as Riyadh makes significant demands in exchange for normalization, including a nuclear deal and a robust U.S. security pact.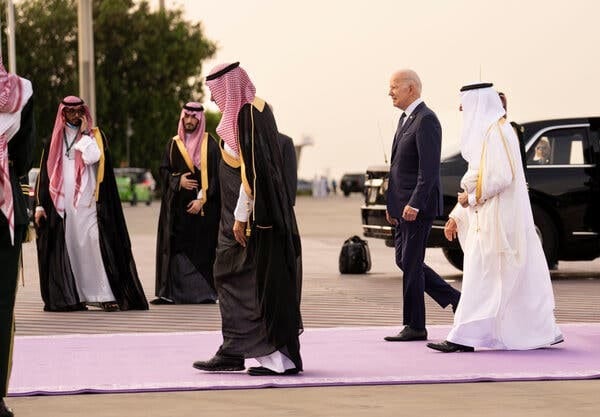 President Biden arriving in Saudi Arabia for a visit that included meetings with Crown Prince Mohammed bin Salman last year. A normalization of relations between Saudi Arabia and Israel could reap benefits for leaders of both countries — and Mr. Biden.Credit…Doug Mills/The New York Times
By Mark Mazzetti, Ronen Bergman, Edward Wong and Vivian Nereim
Reporting from Washington, Tel Aviv and Riyadh
Publish: June 17, 2023Updated 4:15 p.m. ET
Shortly after his plane took off earlier this month from Riyadh, where he had held a lengthy meeting with Saudi Arabia's crown prince, Secretary of State Antony J. Blinken called a different Middle East leader, Prime Minister Benjamin Netanyahu of Israel.
Over 40 minutes, Mr. Blinken gave the Israeli leader a briefing about the significant demands the young crown prince, Mohammed bin Salman, was making for his nation to normalize diplomatic relations with Israel. Mr. Netanyahu had an update on his own demands.
The phone call — described by two American officials — was a turn in the Biden administration's long-shot bid to broker a landmark diplomatic deal between Saudi Arabia and Israel, two historical adversaries who in recent years have been engaged in a discreet courtship in part over their shared distrust of archrival Iran.
The White House, which for more than two years has largely been content to sit out the poker game of Middle East diplomacy, has decided to make a bet and push some of its chips in. The United States is now in the midst of complex negotiations among three leaders who have their own reasons for a deal but are making demands that might prove to be too costly. And they simply do not much like or trust each other.
Several senior American officials said the chances of a deal could be less than 50 percent, and Mr. Blinken said he had "no illusions" the path to a deal would be quick. Still, a normalization of relations between Saudi Arabia and Israel would be one of the most dramatic events in a continued realignment of the Middle East, and could reap benefits for leaders of both countries, as well as President Biden, who faces re-election next year.
It would also make explicit what has been true for a long time: that the government of one of the Arab world's most influential countries has effectively made its support for a Palestinian independent state a lower priority.
For Mr. Netanyahu, Saudi Arabia's recognition of Israel would be a significant political victory for the embattled leader, whose hard-right coalition government faces fierce domestic opposition.
For his part, Prince Mohammed is seeking a strengthened security relationship with the United States, access to more American weapons and U.S. consent for the kingdom to enrich uranium as part of a civilian nuclear program — something that Washington has long resisted.
For Mr. Biden, drawing closer to Saudi Arabia carries political risks — he once pledged to make Saudi Arabia a "pariah" — but a diplomatic pact in the Middle East could be a boon ahead of the 2024 election. American officials also see strategic importance in bolstering ties with Saudi Arabia: as a way to keep Riyadh from gravitating further toward China, two nations that have engaged in an increasingly warm embrace.
---
This has been an ongoing development since the efforts of former President Donald Trump to bring about Peace in the Middle East.  This is not surprising to Bible Students as we fully expect to see this development based on Bible Prophecy that has foretold the alignment of Nations in the "latter days".  The Bible describes a King of the North and a King of the South Geo-political Alignment of Nations in the last days prior to the last battle of mankind and the intervention of Christ to established God's Kingdom on Earth Forever.  We read of this in Daniel Chapter 11:
"And at the time of the end shall the king of the south push at him: and the king of the north shall come against him like a whirlwind, with chariots, and with horsemen, and with many ships; and he shall enter into the countries, and shall overflow and pass over. He shall enter also into the glorious land, and many countries shall be overthrown: but these shall escape out of his hand, even Edom, and Moab, and the chief of the children of Ammon. He shall stretch forth his hand also upon the countries: and the land of Egypt shall not escape. But he shall have power over the treasures of gold and of silver, and over all the precious things of Egypt: and the Libyans and the Ethiopians shall be at his steps. But tidings out of the east and out of the north shall trouble him: therefore he shall go forth with great fury to destroy, and utterly to make away many. And he shall plant the tabernacles of his palace between the seas in the glorious holy mountain; yet he shall come to his end, and none shall help him."
You can read more about this in this article: Alignment of Nations in the Latter Days