UK's Sunak Expresses Optimism on U.S. Economic Ties Without Talking Trade Deal
Published: Nov. 16, 2022, at 3:53 a.m.  By Reuters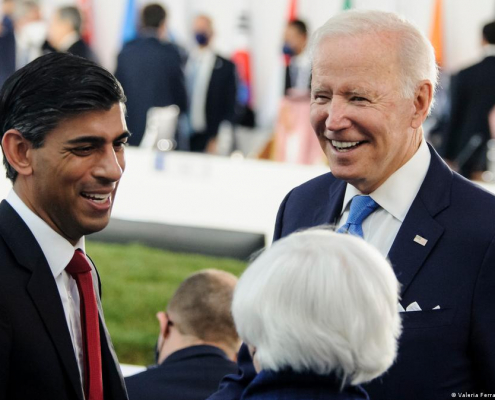 British Prime Minister Rishi Sunak attends the G20 meeting holding a news conference with Prime Minister Justin Trudeau of Canada at the G20 summit on November 16, 2022 in Nusa Dua, Indonesia. The G20 meetings are being held in Bali from November 15-16. Leon Neal/Pool via REUTERSREUTERS
NUSA DUA, Indonesia (Reuters) -British Prime Minister Rishi Sunak expressed optimism on Wednesday that Britain and the United States could deepen their economic relationship but he said he had not spoken specifically about a trade deal with U.S. President Joe Biden.
London once viewed a free trade deal with the United States as the one of the biggest prizes for leaving the European Union. But hopes of a quick agreement were dashed when the Biden administration put all free trade talks on ice.
At a G20 meeting, Sunak said he "didn't discuss the trade deal in particular" with Biden, but had spoken about economic cooperation, particularly on energy.
"I am filled with optimism about our ability to do more trade with the U.S., to deepen our economic relationship. That can happen in lots of different ways," Sunak told a news conference.
Trade minister Kemi Badenoch was in Washington this week and said it was "no secret" Britain wanted a comprehensive free-trade agreement with the United States.
---
Keep watching the UK USA relationship developments as they will be aligned and working together to protect Israel as The King of the South spoken of in Bible Prophecy.  Bible Students fully expect to see the UK and the USA come close together with the UK leading the Commonwealth Nations as the
KING OF THE SOUTH against the EU and RUSSIA. We will see this develop following BREXIT. Bible Prophecy is very clear on the fact that Britain will be a major global politically leader at the time with Russia and the EU invade the Middle East.  Britain will assume this role following BREXIT along with the Commonwealth Countries (and America who is also of British origin) make up the King of the South (along with Israel, Eqypt and the Gulf Arab Nations) at the time of the end that will move to stop Russia and Europe from invading the Middle East.
God has declared the End from the Beginning and the Bible (God's Word) revealed that Britain would not be part of the EU when Christ Returns to Earth, and World Events have conspired to ensure that has now happened. But we need to keep watching this development as there is much to see yet as Britain takes her place once more on the World Political Stage.
See this Article to learn more about Britian and the Commonwealth Block in Bible Prophecy.
So yet again we see the hand of God at work in the nations to ensure that His purpose unfolds on the earth.  Britain has now voted to leave the EU and will rebuild her ties with the Commonwealth Block.  Together they will challenge the rise of Russia and the EU and their influence in the Middle East. 
See this article below to learn more about this: