Ukraine war tolls death knell for NATO
Logically, the option open to the US at this point would be to disengage. But that becomes an abject admission of defeat and will mean the death knell for NATO, and Washington's transatlantic leadership goes kaput
December 26, 2022 by M.K. Bhadrakumar
President Vladimir Putin addressed an expanded meeting of the Russian Defense Ministry Board, Moscow, December 21, 2022.
The defining moment in US President Joe Biden's press conference at the White House last Wednesday, December 21, during President Zelensky's visit, was his virtual admission that he is constrained in the proxy war in Ukraine, as European allies don't want a war with Russia.
To quote Biden, "Now, you say, 'Why don't we just give Ukraine everything there is to give?'  Well, for two reasons. One, there's an entire Alliance that is critical to stay with Ukraine.  And the idea that we would give Ukraine material that is fundamentally different than is already going there would have a prospect of breaking up NATO and breaking up the European Union and the rest of the world… I've spent several hundred hours face-to-face with our European allies and the heads of state of those countries, and making the case as to why it was overwhelmingly in their interest that they continue to support Ukraine… They understand it fully, but they're not looking to go to war with Russia.  They're not looking for a third World War."
Biden realized at that point that "I probably already said too much," and abruptly ended the press conference. He probably forgot that he was dwelling on the fragility of Western unity.
The whole point is that the Western commentariat largely forgets that Russia's core agenda is not about territorial conquest — much as Ukraine is vital to Russian interests — but about NATO expansion. And that has not changed.
---
The NATO alliance is under political threat between Russia and Europe.  One of the outcomes of the Ukraine war could see NATO losing support within the EU as they know they have to somehow live with Russia and this is why President Emmanuel Macron of France has said that longer term they need a   to form of a Security Pact with Russia, NATO will be a key issue in allowing that to happen.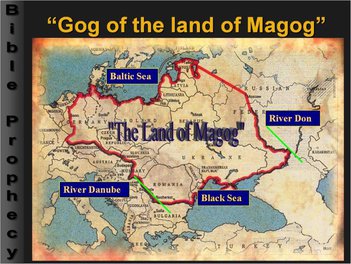 The Bible has long revealed that Russia and an EU Army will enter into a final conflict with Israel and the Middle East.  Germany is the key country in what Bible Prophecy refers to as the land of "Magog". They are spoken of militarily as the "King of the North".  Together the Bible says that Russia and the EU will invade the Middle East in the Last Days.  So, Bible Students expect to see Germany and France taking a greater role in leading Europe.  It is also interesting to see Germany taking greater control of a continent they tried to take by war and failed.
Yet again we see in Today's News Headlines words that show how the Nations are fulfilling the latter-day alignment of Nations as Prophesied by the Bible. 
See this article to learn more about this and the latter day prophecies of the Bible.
See this article for more on this subject: WHAT IS NEXT FOR EUROPE