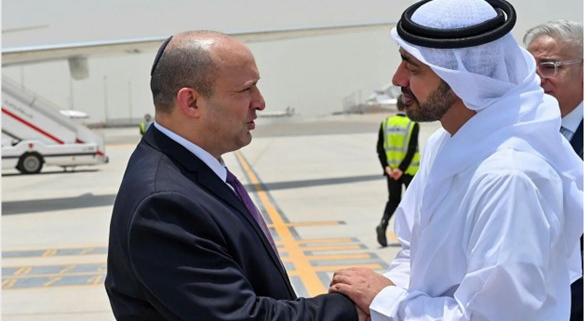 In UAE Bennett Inches Closer to the Biggest Prize of All
Israel is part of the American attempt to thaw relations with Saudi Arabia, but may have to pay a price
Published June 10, 2022 6:06 AM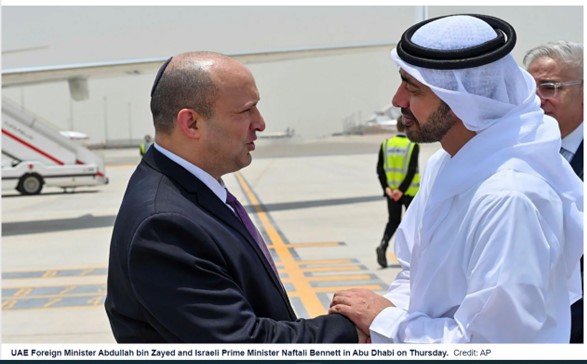 UAE Foreign Minister Abdullah bin Zayed and Israeli Prime Minister Naftali Bennett in Abu Dhabi on Thursday. Credit: AP
Prime Minister Naftali Bennett on Thursday paid a surprise visit to the United Arab Emirates. The purpose, in addition to the official photo, was to offer condolences to the new ruler, Sheikh Mohammed bin Zayed Al Nahyan, over the death of his half-brother, the former ruler, Sheikh Khalifa bin Zayed Al Nahyan.
It was Bennett's second public visit to the UAE; his predecessor, Benjamin Netanyahu, didn't get to pay a visit. Though Netanyahu put together the Abraham Accords with the UAE and Bahrain, with the mediation of former U.S. President Donald Trump, he didn't manage to reap the fruits in the form of an official visit, because he entangled himself in an election campaign which, to cap it off, he lost.
On Bennett's agenda is a potentially greater prize, but it looks as though he too, like Netanyahu before him, will not succeed in achieving it fully, given his political problems. The present Biden administration very much wants to rehabilitate U.S.-Saudi relations. They have been badly strained since it became clear that the Saudi crown prince, Mohammed bin Salman, was behind the assassins who murdered and dismembered the journalist and dissident Jamal Khashoggi in Turkey nearly four years ago. Following the slaying, MBS became persona non grata for the Democrats in Washington, and the Americans continued to cold-shoulder Riyadh during Joe Biden's first year in office.
The circumstances changed following Russia's invasion of Ukraine in February, an action that drove up the price of oil. Now Biden wants Saudi Arabia to agree to step up oil production and thereby bring about a global price reduction of the fuel. Biden was supposed to visit the Gulf and Israel later this month, but in the meantime the visit has been postponed to an unknown date.
As part of their conciliatory efforts with Riyadh, the Americans are also marketing a security rapprochement between Israel and the Gulf states. That's the background to Washington's initiative to promote agreements and joint systems for a regional air defense of Middle Eastern countries in the face of Iranian missiles and drones, under the professional leadership of the American military and the Israel Defense Forces. Be that as it may, Israel's security relations in the Gulf appear to be thriving. Most of the details are under wraps, but it's worth recalling that this week, too, aviation buffs spotted a lively movement of transport aircraft from the Gulf to the Nevatim airbase in the Negev.
---
This has been an ongoing development since the efforts of former President Donald Trump to bring about Peace in the Middle East.  This is not surprising to Bible Students as we fully expect to see this development based on Bible Prophecy that has foretold the alignment of Nations in the "latter days".  The Bible describes a King of the North and a King of the South Geo-political Alignment of Nations in the last days prior to the last battle of mankind and the intervention of Christ to established God's Kingdom on Earth Forever.  We read of this in Daniel Chapter 11: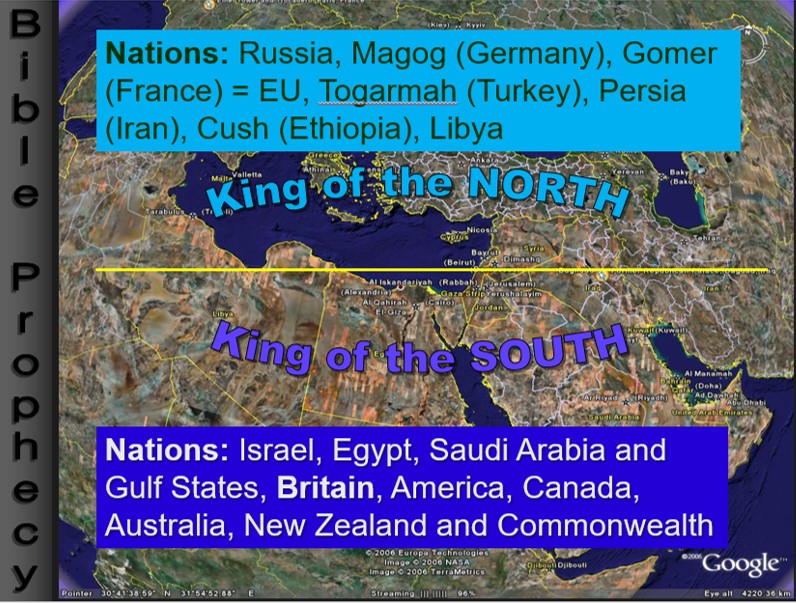 "And at the time of the end shall the king of the south push at him: and the king of the north shall come against him like a whirlwind, with chariots, and with horsemen, and with many ships; and he shall enter into the countries, and shall overflow and pass over. He shall enter also into the glorious land, and many countries shall be overthrown: but these shall escape out of his hand, even Edom, and Moab, and the chief of the children of Ammon. He shall stretch forth his hand also upon the countries: and the land of Egypt shall not escape. But he shall have power over the treasures of gold and of silver, and over all the precious things of Egypt: and the Libyans and the Ethiopians shall be at his steps. But tidings out of the east and out of the north shall trouble him: therefore he shall go forth with great fury to destroy, and utterly to make away many. And he shall plant the tabernacles of his palace between the seas in the glorious holy mountain; yet he shall come to his end, and none shall help him."
You can read more about this in this article: Alignment of Nations in the Latter Days