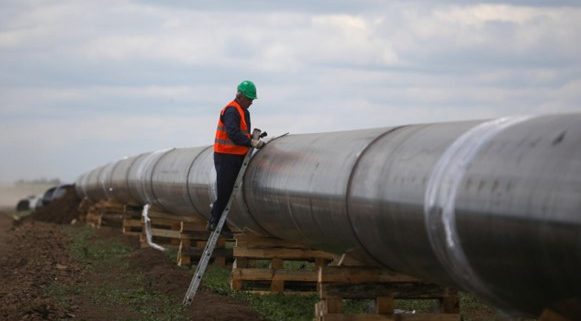 Turkey and Russia to jointly set up gas hub in Thrace, Erdogan says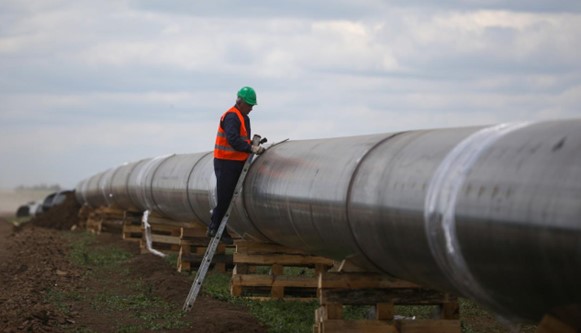 Distribution centre to be constructed in Thrace, Turkey, following meeting in Astana between Russian and Turkish presidents
A worker is seen next to a pipe at a construction site on the extension of Russia's TurkStream gas pipeline in Bulgaria (Reuters)
By Ragip Soylu  in Ankara  Published date: 14 October 2022 09:00 UTC
Turkey will establish a natural gas distribution centre in Thrace with Russia, Turkish President Recep Tayyip Erdogan announced on Friday during an interview with local journalists.
Erdogan met his Russian counterpart Vladimir Putin on Thursday in Astana, who touted Turkey as the best route for redirecting gas supplies to the European Union after suspected blasts damaged the Nord Stream pipeline in the Baltic Sea.
"Together with Mr Putin, we instructed our Ministry of Energy and Natural Resources and the relevant institution on the Russian side to work together," Erdogan said. "We will find the most appropriate place for this distribution centre and will build it."
Erdogan said the energy ministry and Russian energy firm Gazprom will first conduct a feasibility report and present it to the leaders, adding that security precautions for such a centre will also be taken.
'We will find the most appropriate place for this distribution centre and will build it'  – Recep Tayyip Erdogan
Russia's decision to suspend gas supplies to Europe, especially after suspicious leaks from the Nord Stream main pipelines, have had a steep impact on the 27-nation EU and beyond, with gas prices almost 90 percent higher than a year ago and fears growing of shortages over the coming winter.
Gas supplies to Europe from Russia were swiftly curtailed after western countries responded to the Russian invasion of Ukraine in February with a wave of sanctions on Moscow.
Turkey and Russia have two active pipelines. One, TurkStream, goes across the Black Sea and through western Turkey near Thrace.
Putin earlier this week claimed that police had arrested a number of suspects that tried to sabotage the TurkStream pipeline.
Ukraine on Thursday blamed Russia itself for trying to sabotage the pipeline and turn public opinion against Kyiv.
Turkey has been walking a fine line on the Ukraine invasion, arming Kyiv with combat drones and ammunition but cutting economic deals with Moscow. Turkey is seeking a 25 percent discount on Russian gas purchases and a payment postponement until 2024.
Moscow has already pumped more than $7bn into Turkish Central Bank coffers through the Akkuyu Nuclear Power Plant scheme, building a lifeline to depleted foreign reserves through back-door transfers.
---
One might think it strange that Turkey should be getting into bed with Russia given the recent actions of its leader Putin, but Bible Prophecy has long shown that Turkey will have a close relationship with Russia in the lead up to man's final conflict and the return of Christ.  So, keep watching this development with Turkey as they move closer in their ties to Russia. Based on Bible Prophecy Turkey will be with Russia and Europe when they invade the Middle East as described in Ezekiel 38.   We fully expect to see Russia become more closely linked to Europe militarily whereby Russia will become a "guard" unto the European Nations according to Ezekiel 38:7. 
Also, Ezekiel 38:6 says that "Gomer (France), and all his bands; the house of Togarmah (Turkey) of the north quarters, and all his bands: and many people with thee."
So somehow Turkey will be involved with Russia and it's Army and the move into the Middle East.
See this article to learn more about this and the latter-day prophecies of the Bible.
Bible Prophecy about the alignment of Nations in the Latter Days