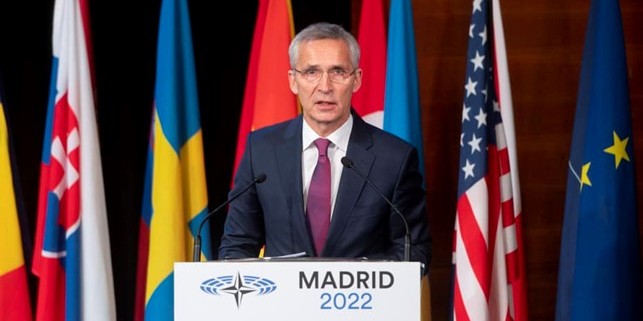 Trust between the West and Russia has been destroyed NATO chief says
PUBLISHED MON, DEC 12 20228:34 AM  Holly Ellyatt@HOLLYELLYATT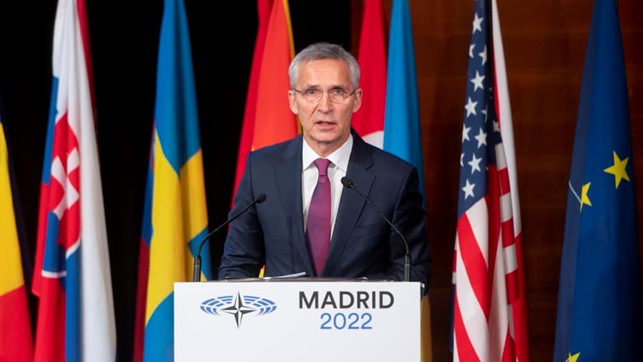 The West has tried to build bridges with Russia since the end of the Cold War but any trust that was established in recent years has been destroyed with Russia's invasion of Ukraine, NATO Secretary-General Jens Stoltenberg said Monday.
"NATO strived for decades to develop a better, more constructive relationship with Russia," he told CNBC's Hadley Gamble in Brussels.
"After the end of the Cold War we established institutions [like the] NATO-Russia Council, when I was prime minister of Norway I remember that President Putin attended NATO summits … so this was a different time when we worked for a better relationship. Russia has walked away from all of this," he said.
Stoltenberg said a level of trust that had been established during a rapprochement between Western nations and Russia in recent decades had been destroyed by Moscow's decision to invade Ukraine.
North Atlantic Treaty Organization (NATO) Secretary General Jens Stoltenberg speaks during the plenary session of the third day of the 68th Annual Session of the Parliamentary Assembly in the Auditorium Ground Floor Room at the Hotel Melia Castilla, Nov. 21, 2022, in Madrid, Spain.
"Even if the fighting ends, we will not return to some kind of normal, friendly, relationship with Russia. Trust has been destroyed," he said. "I think the war has had long-lasting consequences for the relationship with Russia."
Stoltenberg's comments come as the war in Ukraine shows no signs of slowing down over the winter period, despite expectations among some Western analysts that both Ukraine and Russia could look for a lull in the fighting to regroup before launching renewed counter-offensives in the spring.
That doesn't appear to be the case, however, with fighting intense in eastern Ukraine and missile and drone strikes continuing to harass Ukrainian villages towns and cities in the south and east of the country.
Russia continues to pound Ukraine's energy infrastructure too with devastating consequences for civilians; drone strikes on Saturday left 1.5 million people in the port city of Odesa without power, for example.
Russia President Vladimir Putin signaled last week that he was in it for the long-haul, saying the so-called "special military operation" could be a "lengthy process." Russia insists that its aim is to "liberate" regions (Donetsk and Luhansk in eastern Ukraine and Kherson and Zaporizhzhia in the south) that it unilaterally and illegally "annexed" after coercive referendums on whether to join Russia.
Ukraine has also showed no signs of letting-up, particularly as it tries to build on momentum that has allowed it to liberate chunks of Kharkiv in the northeast and Kherson in the south and to make advances in the east — although the war there, particularly in Donetsk in eastern Ukraine, is seen as hellish for both sides with both forces dug into networks of trenches that now stretch across a devastated landscape reminiscent of World War I.
Stoltenberg insisted that the war could stop at any moment if Russia chose to end hostilities.
---
This might be the case for now, but this will change as Europe according to Bible Prophecy will be allied with Russia at the time of the end in the battle of Armageddon.  So while NATO looks to be the savior of Europe for now, we know from Bible Prophecy that NATO will come to an end and Europe will be allied with Russia at the time of the end conflict of Armageddon.  If the leaders of the EU believe that there long term security rests on having a Security Pact with Russia, NATO's existence in its current form will be an issue that may see it's demise.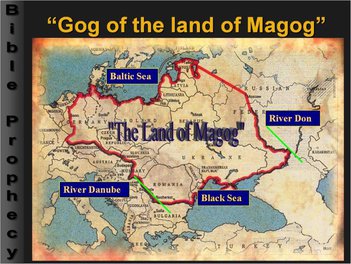 The Bible has long revealed that Russia and an EU Army will enter into a final conflict with Israel and the Middle East.  Germany is the key country in what Bible Prophecy refers to as the land of "Magog". They are spoken of militarily as the "King of the North".  Together the Bible says that Russia and the EU will invade the Middle East in the Last Days.  So Bible Students expect to see Germany and France taking a greater role in leading Europe.  It is also interesting to see Germany taking greater control of a continent they tried to take by war and failed.
Yet again we see in Todays News Headlines words that show how the Nations are fulfilling the latter day alignment of Nations as Prophesied by the Bible. 
See this article to learn more about this and the latter day prophecies of the Bible.
See this article for more on this subject: WHAT IS NEXT FOR EUROPE