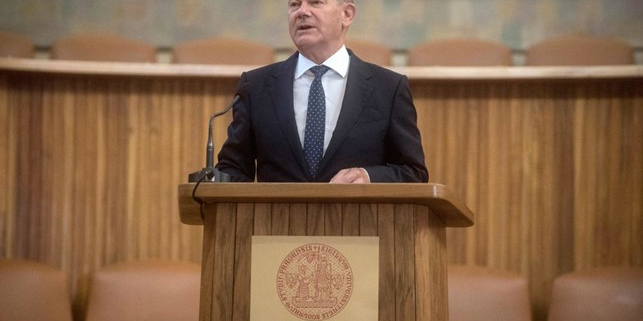 Scholz pitches major EU enlargement with reform
In order to expand the EU, Brussels must change first, the German chancellor argues.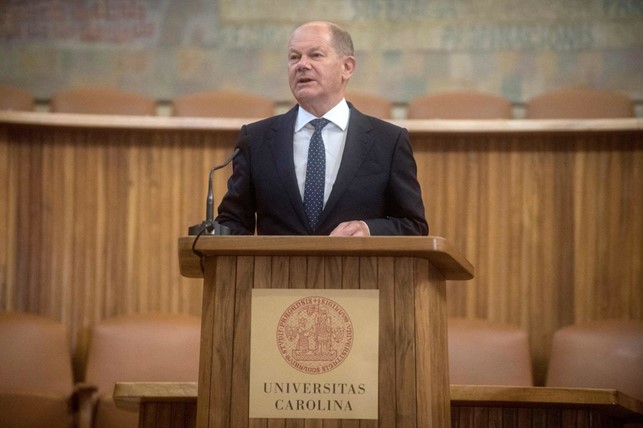 At Charles University in Prague, Germany's Chancellor Olaf Scholz outlined his vision for an EU of the future | Michal Cizek/AFP via Getty Images
Published: AUGUST 29, 2022 5:01 PM BY LAURENZ GEHRKE
The EU should significantly expand but must first undergo fundamental reforms to ensure an enlarged bloc can still function, German Chancellor Olaf Scholz said Monday.
During an hour-long speech at Charles University in Prague, Scholz outlined his vision for an EU of the future — one that has absorbed up to nine new members on its eastern edge, extended its visa-free travel zone and overhauled the way it makes basic decisions on everything from foreign policy to taxation.
Scholz's pitch, which mostly included ideas he has previously promoted, comes at a pivotal moment for the EU. Russia's war in Ukraine has just dragged past the six-month mark and an energy and inflation crisis looms, leaving many worried about EU fissures.
Specifically, Scholz supported EU membership for Western Balkan countries, as well as war-torn Ukraine, neighboring Moldova and nearby Georgia. He also argued that EU members Croatia, Romania and Bulgaria have met the criteria for admission to Europe's Schengen area, which allows for easy, visa-free travel between countries.
"But a Union with 30 or even 36 member states will look different from our current Union — Europe's center moves eastward," the chancellor conceded. "Ukraine isn't Luxembourg."
Such an expansion would potentially add tens of millions of people — and fraught political dynamics — to the already byzantine and consensus-based EU decision-making process.
---
The EU will expand and become as the Bible has long foretold a beast system, an amalgamation of peoples all under one leader and governmental system. 
So, WATCH this development as it is a sure sign that we are living in the last days before Christ's Return.
This EU SUPERSTATE will along with Russia enter into a final conflict with Israel and the Middle East.  Germany is the key country in what Bible Prophecy refers to as the land of "Magog". They are spoken of militarily as the "King of the North".  Together the Bible says that Russia and the EU will invade the Middle East in the Last Days.  So Bible Students expect to see Germany and France taking a greater role in leading Europe.  It is also interesting to see Germany taking greater control of a continent they tried to take by war and failed.
Yet again we see in Today's News Headlines words that show how the Nations are fulfilling the latter-day alignment of Nations as Prophesied by the Bible.
See this article to learn more about this and the latter day prophecies of the Bible.
See this article for more on this subject: WHAT IS NEXT FOR EUROPE