Russian Orthodox Church says ready for new pope meeting
Published: 14/09/2022 – 13:24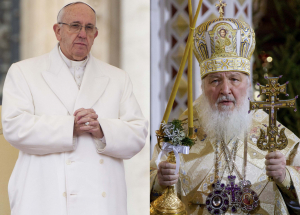 The Russian Orthodox Church said Wednesday it was ready for a new meeting between Patriarch Kirill and Pope Francis after weeks of diplomatic tensions sparked by the Ukraine war.
The news came after the pope opened an inter-faith meeting in ex-Soviet Kazakhstan where he lashed the manipulation of faith for political ends.
The gathering is being attended by around 100 delegations from 50 countries, but Putin's close ally, Patriarch Kirill, is a notable absentee.
The pope has previously called for peace and denounced a "cruel and senseless war", but Kirill has firmly defended Putin's operation.
After opening the meeting in the capital Nur-Sultan, the pope spoke with Kirill's "foreign minister," Metropolitan Anthony of Volokolamsk, for around 15 minutes.
Anthony said a meeting between the two pontiffs was "a possibility," provided it was "well prepared."
"We need to see when, where (this would happen) and the most important thing is that we want something concrete to come out of the meeting, such as the joint call that we had in Havana," he told journalists, referring to a historic 2016 meeting between Francis and Kirill in Cuba — the first since the schism in the Christian church in 1054.
Anthony said the pope himself thought a meeting was "needed" and regretted that a meeting planned in June in Jerusalem had been scrapped "by the Holy See."
---
This ongoing developing of closer relations is very interesting and highlights something Bible Students have been expecting and watching for some years. Bible Prophecy has revealed to us that the Catholic and Orthodox Churches will be United once more, before Christ's Return. Further Prophecy tells us that both Europe and Russia will be united under one Religion being Catholicism both West and East. This development goes hand in hand with Britain's Exit from the EU and Russia's rise to the position of being a "guard' unto the EU as per Ezekiel 38:8.
See this article here to learn about this: Catholic and Orthodox Churches to UNITE
See also Alignment of the Nations in the Last Days Prior to Christ's Return