Russia ready for dialogue with NATO if it improves security in Europe senior diplomat
Published: 30 JAN, 2021, 18:35
Russia is ready for dialogue with NATO if that helps improve security in Europe, but so far there is no positive agenda with the alliance, said Russian Deputy Foreign Minister Alexander Grushko
ATHENS, January 30. /TASS/. Russia is ready for dialogue with NATO if that helps improve security in Europe, but so far there is no positive agenda with the alliance, Russian Deputy Foreign Minister Alexander Grushko told Russian reporters in Athens late on Friday.
When asked whether the Russian Foreign Ministry plans any contacts with NATO Secretary General Jens Stoltenberg, Grushko said, "They are not considered yet. I will say that again – there is no positive agenda. All decisions have been made. As for politics, NATO announced the policy of containing Russia, the need to counter it, and that's it."
The senior diplomat stressed, however, that Russia was ready for talks with NATO. "Nevertheless, let me say that we do not dodge contacts, and, if there is a shared understanding that such communication will result at least in some minor decisions aimed at a real improvement of the military security situation in Europe, of course, we will be ready for such a conversation.".
Just keep watching this space ie. we will see a lot more of this development to the point where Russia joins with Europe in a military alliance that will supersede NATO.  The Bible says that NATO will not survive, there must be a break down in the past relationship between Europe and America for Europe to move into the sphere of a new relationship with Russia as the Bible Predicts and has done so for over 2500yrs in Bible Prophecy that is continuing to be played out in Current World Events.  So yes, yet another article that highlights the issue of the challenge that is facing NATO.  This article highlights yet again the fulfilment of Bible Prophecy spoken 2500 years ago.  The Bible reveals that The EU will become a SUPERSTATE with a dominant FEDERAL GOVERNMENT described in the Bible as a Beast System due to its amalgamation of different countries and peoples into one State with one Voice.  Along with this development we expect to see Russia become more involved in Europe with links to a combined army, yes NATO will come to an end and Russia will end up militarily linked to this EU ARMY.  But Russia will never join the EU as Putin will never give up Russia's sovereignty.
---
So WATCH this development as it is a sure sign that we are living in the last days before Christ's Return.  
This EU SUPERSTATE will along with Russia enter into a final conflict with Israel and the Middle East.  Germany is the key country in what Bible Prophecy refers to as the land of "Magog".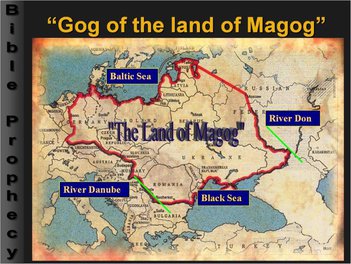 They are spoken of militarily as the "King of the North".  Together the Bible says that Russia and the EU will invade the Middle East in the Last Days.  So Bible Students expect to see Germany and France taking a greater role in leading Europe.  It is also interesting to see Germany taking greater control of a continent they tried to take by war and failed.
Yet again we see in Todays News Headlines words that show how the Nations are fulfilling the latter day alignment of Nations as Prophesied by the Bible. 
See this article to learn more about this and the latter day prophecies of the Bible.
See this article for more on this subject: WHAT IS NEXT FOR EUROPE