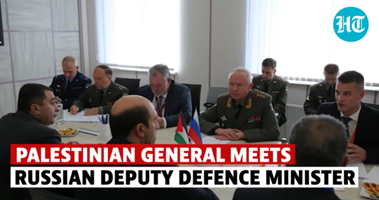 PUTIN MAKES A PACT WITH "PALESTINE"
written by David Mark September 15, 2022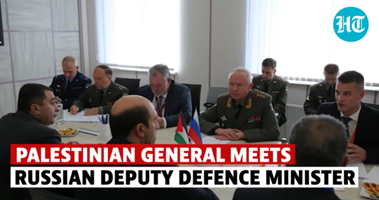 Just when you thought it couldn't get any crazier in the Middle East for Israel, Russian president Vladimir Putin has offered direct military cooperation and assistance to the Palestinian Authority.
With Russian troops already in Syria as well as Russia being in support of Iranian encroachment on Israel's border, Putin is now applying even more pressure to the Jewish state by offering military assistance to "palestinians" in Judea and Samaria. While there would be no way for Russia to actually deliver this sort of military assistance, the prospects of Russian interference in Judea and Samaria should be frightening to everyone.
This is exactly why the Israeli government has always been insistent that it remains in control of all borders with any future "palestinian" entity. After all, one cannot trust the "palestinians" themselves not to import weapons.
The real question is why is Russia pursuing this path?
Many Middle East experts believe that Putin is punishing Israel for their leaders support for Ukraine. However, this may just be an excuse. For years Putin has been wary that Israel will be able to deliver gas to Europe, allowing them to replace Russian energy with Israeli energy. This would be a nightmare for Putin as it would reduce the leverage he has on Europe.
Putin's strategy is to pressure Israel to be subservient to his global agenda and he is willing to use the "palestinians" to achieve this.
---
This is not surprising to Bible Students as we fully expect to see Russia against Israel in the "latter days".  The Bible describes a King of the North and a King of the South Geo-political Alignment of Nations in the last days prior to the last battle of mankind and the intervention of Christ to established God's Kingdom on Earth Forever.  We read of this in Daniel Chapter 11:
"And at the time of the end shall the king of the south push at him: and the king of the north shall come against him like a whirlwind, with chariots, and with horsemen, and with many ships; and he shall enter into the countries, and shall overflow and pass over. He shall enter also into the glorious land, and many countries shall be overthrown: but these shall escape out of his hand, even Edom, and Moab, and the chief of the children of Ammon. He shall stretch forth his hand also upon the countries: and the land of Egypt shall not escape. But he shall have power over the treasures of gold and of silver, and over all the precious things of Egypt: and the Libyans and the Ethiopians shall be at his steps. But tidings out of the east and out of the north shall trouble him: therefore he shall go forth with great fury to destroy, and utterly to make away many. And he shall plant the tabernacles of his palace between the seas in the glorious holy mountain; yet he shall come to his end, and none shall help him."
You can read more about this in this article: Alignment of Nations in the Latter Days