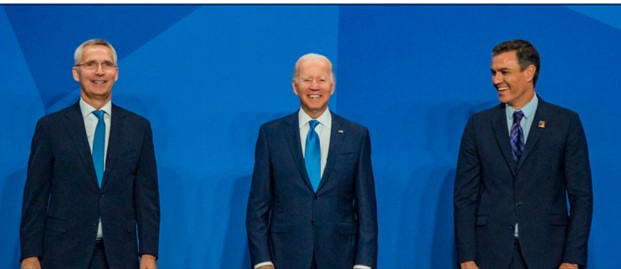 Why we can't rely on NATO to make Europe whole again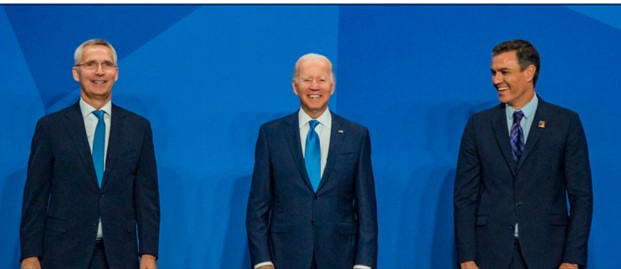 Secretary General of NATO, Jens Stoltenberg, left, the president of the United States of America, Joe Biden, center, and the President of Spain, Pedro Sanchez, right, pose for the media during the NATO Summit in Madrid, Spain. (Photo by Celestino Arce/NurPhoto)
Published: AUGUST 12, 2022
Written by George Beebe
For a long-term peace, the region needs new security structures outside of the alliance that eventually include Russia.
Amid a precarious proxy war with Russia, a brewing crisis with China, and a potential confrontation with Iran – not to mention considerable turbulence at home – Americans can at least take comfort in knowing that the NATO alliance is continuing to expand. 
Or at least, that appears to be the message coming out of Washington. 
On Tuesday President Joe Biden signed U.S. ratification documents for Sweden and Finland to join NATO, with overwhelming bipartisan approval from both chambers of Congress. So far, 23 of the 30 members of the alliance have ratified the applications, as NATO moves to expand in response to Putin's brutal full-scale invasion of Ukraine. At the signing ceremony in the White House, Biden remarked, "Putin thought he could break us apart…instead, he is getting exactly what he did not want."
One might hope that NATO's strategy consists of more than doing what Putin does not want. But there is little sign of that in its new Strategic Concept. It offers a plan for stationing more U.S. forces in Europe and expanding NATO's quick reaction forces by a factor of more than seven. It reiterates NATO's position that Ukraine and Georgia will one day become NATO members. It also suggests that the alliance regards China, as well as Russia, as a threat and needs to devote more attention to the Pacific. 
But this strategy does not seem to grasp that Russia is likely to respond to NATO's expanding conventional might by relying increasingly on its nuclear arsenal. It demonstrates no understanding that waging simultaneous battles against Russia and China will drive those nations together while taxing America's already overstretched resources. And it offers no clues about how the West's longstanding vision of a Europe that is "whole, free, and at peace" can be achieved given the reality of dangerous military confrontation with Moscow. 
---
While NATO will become an even bigger issue for Russia and Europe if they are to co-exist peacefully they will need to a new relationship.  This is yet another sign that the NATO alliance is under political threat between Russia and Europe.  If President Emmanual Macron wants to bring Russia back to the negotiating table and begin dialogue on some form of a Security Pact with Russia, NATO's existence in its current form will be an issue even more so now. 
The Bible has long revealed that Russia and an EU Army will enter into a final conflict with Israel and the Middle East.  Germany is the key country in what Bible Prophecy refers to as the land of "Magog".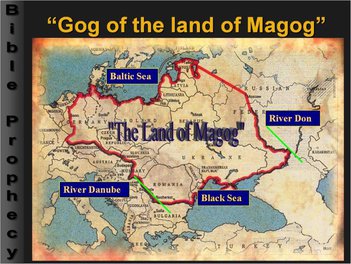 They are spoken of militarily as the "King of the North".  Together the Bible says that Russia and the EU will invade the Middle East in the Last Days.  So Bible Students expect to see Germany and France taking a greater role in leading Europe.  It is also interesting to see Germany taking greater control of a continent they tried to take by war and failed.
Yet again we see in Todays News Headlines words that show how the Nations are fulfilling the latter day alignment of Nations as Prophesied by the Bible. 
See this article to learn more about this and the latter day prophecies of the Bible.
See this article for more on this subject: WHAT IS NEXT FOR EUROPE