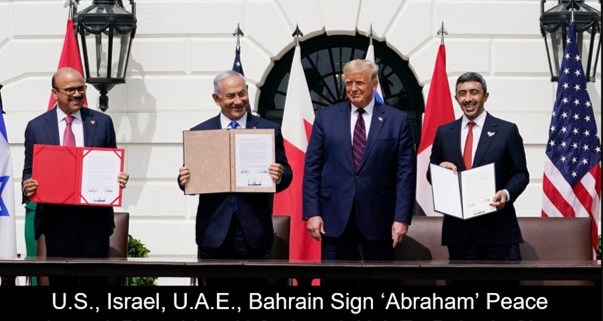 A Middle East Geopolitical Realignment Accelerates to Confront and Contain Iran
A first-ever diplomatic summit in Israel illustrates the new relationships being built across the region as the U.S. rethinks its security role in the Mideast
U.S., Israel, U.A.E., Bahrain Sign 'Abraham' Peace Accords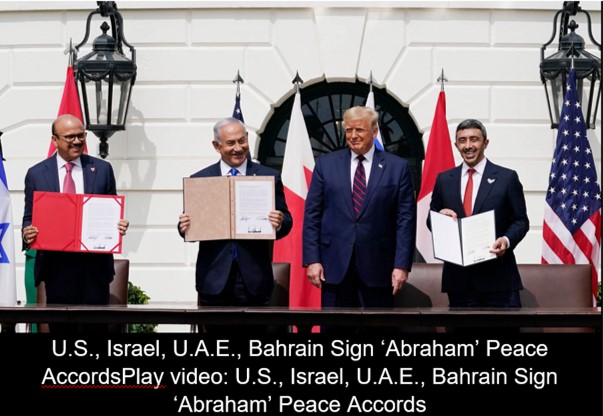 U.S., Israel, U.A.E., Bahrain Sign 'Abraham' Peace AccordsPlay video: U.S., Israel, U.A.E., Bahrain Sign 'Abraham' Peace Accords
Former President Trump presided over the signing of a Middle East peace agreement between Israel, the United Arab Emirates and Bahrain. Photo: Alex Brandon/Associated Press
By David S. Cloud in Dubai, Dov Lieber
Follow in Sde Boker, Israel, and Stephen Kalin
Follow in Riyadh, Saudi Arabia Updated Mar. 27, 2022 4:23 pm ET
New diplomatic and security ties are reshaping the Middle East as former enemies seek unity in containing Iran, the U.S. rethinks its security role in the region, and Russia and China seek to exploit openings left by Washington.
A historic summit starting Sunday in Sde Boker, Israel, illustrates the changing alignments, bringing Arab, Israeli and U.S. officials together for the first time on Israeli soil for talks on expanding their budding partnership.
Israeli and Arab diplomats said they were discussing unprecedented, formal defense partnerships, as well as new military and economic ties and a joint strategy for Iran.
Driving much of the realignment are new fissures between the U.S. and its allies over still-unfinished negotiations on a nuclear pact with Iran and now the war in Ukraine, as the Biden administration struggles to persuade Israel and Saudi Arabia to embrace its positions on engaging with Tehran and isolating Russia.
The summit drew together U.S. Secretary of State Antony Blinken with the top diplomats of Israel as well as Bahrain, Morocco and the United Arab Emirates—the three Arab countries that normalized relations with Israel in 2020 in the so-called Abraham Accords—in the town of Sde Boker in the Negev Desert, where Israeli founding father David Ben-Gurion retired. Egypt's top diplomat is also joining the summit in a last-minute addition, the latest signal that the country that first signed a peace deal with Israel in 1979 is ready for warmer relations.
---
This has been an ongoing development since the efforts of former President Donald Trump to bring about Peace in the Middle East.  This is not surprising to Bible Students as we fully expect to see this development based on Bible Prophecy that has foretold the alignment of Nations in the "latter days".  The Bible describes a King of the North and a King of the South Geo-political Alignment of Nations in the last days prior to the last battle of mankind and the intervention of Christ to established God's Kingdom on Earth Forever.  We read of this in Daniel Chapter 11: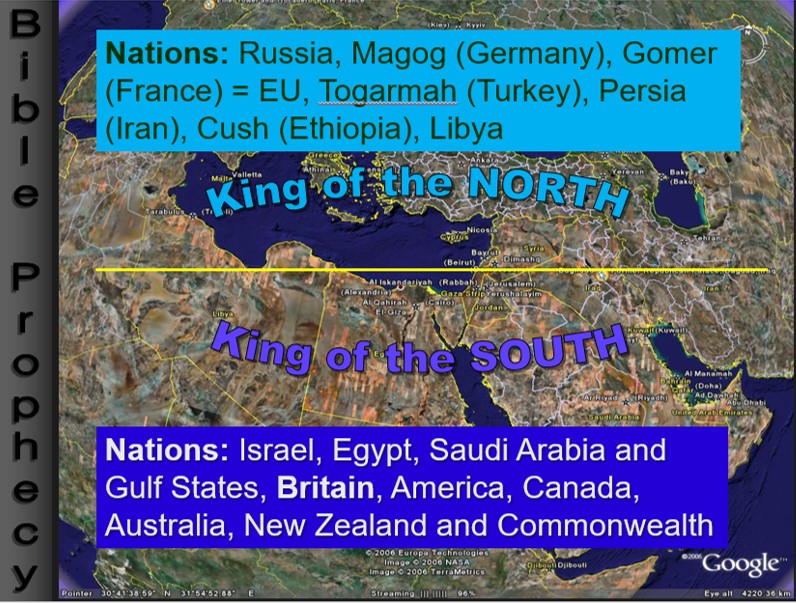 "And at the time of the end shall the king of the south push at him: and the king of the north shall come against him like a whirlwind, with chariots, and with horsemen, and with many ships; and he shall enter into the countries, and shall overflow and pass over. He shall enter also into the glorious land, and many countries shall be overthrown: but these shall escape out of his hand, even Edom, and Moab, and the chief of the children of Ammon. He shall stretch forth his hand also upon the countries: and the land of Egypt shall not escape. But he shall have power over the treasures of gold and of silver, and over all the precious things of Egypt: and the Libyans and the Ethiopians shall be at his steps. But tidings out of the east and out of the north shall trouble him: therefore he shall go forth with great fury to destroy, and utterly to make away many. And he shall plant the tabernacles of his palace between the seas in the glorious holy mountain; yet he shall come to his end, and none shall help him."
You can read more about this in this article: Alignment of Nations in the Latter Days