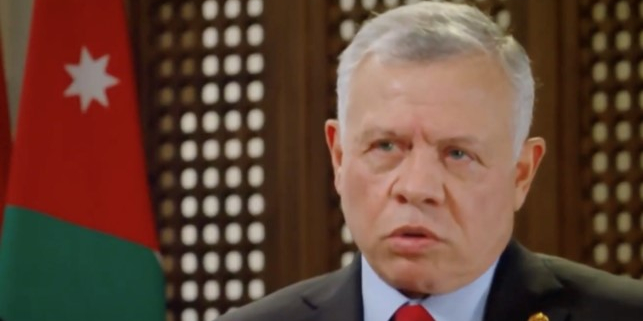 Jordans King Abdullah II backs idea of Middle East NATO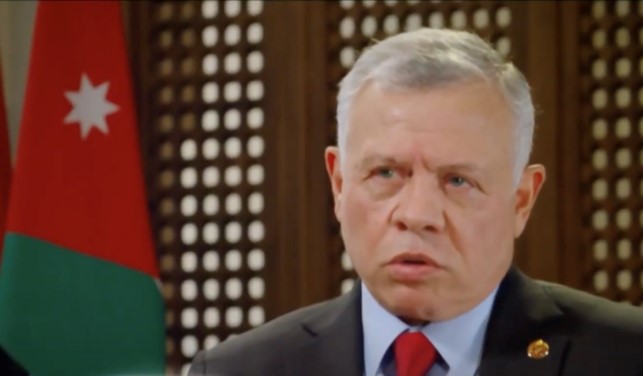 King Abdullah II of Jordan told CNBC he supports the idea of a Middle East military alliance built on the same lines as NATO. (Screenshot/CNBC)
ARAB NEWS June 24, 202217:18
Alliance could work as long as it has a clear mission statement, king says

Could help to address challenges arising from Russia's invasion of Ukraine, Iran's destabilizing activity in region
LONDON: King Abdullah II of Jordan said he supports the idea of a Middle East military alliance built on the same lines as NATO.
Speaking to CNBC's Hadley Gamble, the king said such a grouping could work with like-minded countries, but stressed its mission statement would need to be clear from the outset.
"I'd like to see more countries in the area come into that mix. I would be one of the first people that would endorse a Middle East NATO," Abdullah said.
"The mission statement has to be very, very clear. Otherwise, it confuses everybody," he added.
The king said he already saw his country as a "partner" of NATO, with Jordan having worked closely with the organization and its troops having fought "shoulder to shoulder" with NATO forces in the past.
As well as security and military cooperation, a closer alliance in the Middle East could help to address the challenges arising from Russia's invasion of Ukraine, especially with regard to energy and commodity prices, Abdullah said.
"All of us are coming together and saying 'how can we help each other?' which is, I think, very unusual for the region," he said.
---
This has been an ongoing development since the efforts of former President Donald Trump to bring about Peace in the Middle East.  This is not surprising to Bible Students as we fully expect to see this development based on Bible Prophecy that has foretold the alignment of Nations in the "latter days".  The Bible describes a King of the North and a King of the South Geo-political Alignment of Nations in the last days prior to the last battle of mankind and the intervention of Christ to established God's Kingdom on Earth Forever.  We read of this in Daniel Chapter 11:
"And at the time of the end shall the king of the south push at him: and the king of the north shall come against him like a whirlwind, with chariots, and with horsemen, and with many ships; and he shall enter into the countries, and shall overflow and pass over. He shall enter also into the glorious land, and many countries shall be overthrown: but these shall escape out of his hand, even Edom, and Moab, and the chief of the children of Ammon. He shall stretch forth his hand also upon the countries: and the land of Egypt shall not escape. But he shall have power over the treasures of gold and of silver, and over all the precious things of Egypt: and the Libyans and the Ethiopians shall be at his steps. But tidings out of the east and out of the north shall trouble him: therefore he shall go forth with great fury to destroy, and utterly to make away many. And he shall plant the tabernacles of his palace between the seas in the glorious holy mountain; yet he shall come to his end, and none shall help him."
You can read more about this in this article: Alignment of Nations in the Latter Days