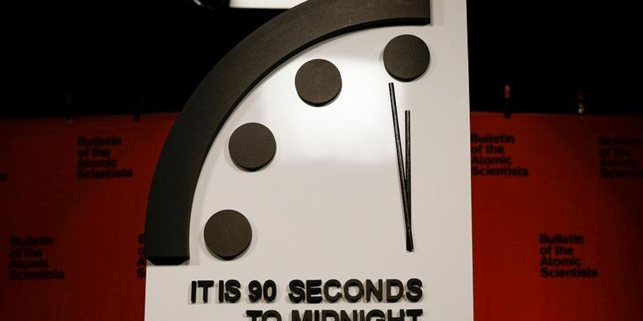 Doomsday Clock signals highest ever peril level
Published 25th January 2023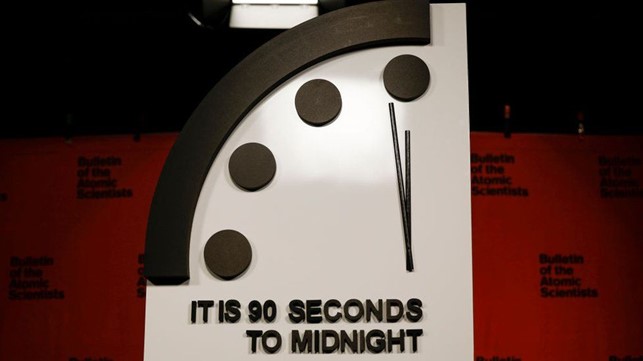 IMAGE SOURCE,GETTY IMAGES
The clock moved 10 seconds closer to human destruction
By Chloe Kim  BBC News, Washington
The symbolic Doomsday Clock has moved closer than ever to midnight, declaring humanity perilously close to catastrophe.
The clock, set to 90 seconds to midnight, marks how close our planet is to complete annihilation because of man made actions.
The Bulletin of the Atomic Scientists (BAS) said the clock moved, in large part, because of the war in Ukraine.
The idea began in 1947 to warn humanity of the dangers of nuclear war.
The hands of the clock are moved closer to or further away from midnight based on the scientists' reading of existential threats at a particular time. Midnight marks the theoretical point of annihilation.
The decision is made by the BAS science and security board, which includes 13 Nobel Laureates. This year the announcement was made available in Ukrainian and Russian as well as English, due to the war in Ukraine.
The board stated that the war has raised profound questions on how nations interact, as well as an apparent downfall in international conduct.
"Russia's thinly veiled threats to use nuclear weapons remind the world that escalation of the conflict – by accident, intention, or miscalculation – is a terrible risk," it said.
The other threats mentioned this year include climate change, biological threats and disruptive technologies.
"The war's effects are not limited to an increase in nuclear danger; they also undermine global efforts to combat climate change," said the statement.
Countries dependent on Russian oil and gas have now sought out other natural gas suppliers.
And as the world continues to experience fallout from Covid-19, the board said world leaders will need to continue to identify and address biological risks – whether the origin is natural, accidental or intentional.
A pandemic, the board said, is no longer a once in a lifetime risk.
In 2020, the clock hands were moved 100 seconds closer to midnight. The following years, in 2021 and 2022, the clock hands stayed at the same place.
The farthest away the clock hands have ever been was right after the end of the Cold War – at 17 minutes from midnight.
Rachel Bronson, CEO of the Bulletin of the Atomic Scientists, said though humans created these problems, the board also believes humans can reduce the risks with global engagement.
---
Despite what man has and is doing to the Earth, the Earth will not be destroyed because God is in Ultimate Control and He has a purpose yet to be established on this Earth.  God will not allow man to destroy the earth.
God's Kingdom will be established on this Earth in perfect fulfilment of Bible Prophecy just as the days in which we are living with all their problems is fulfilling Bible Prophecy.  The real question is: WILL YOU BE IN GOD'S KINGDOM or will you be a casualty of these end times.