The Overwhelming Evidence in support of Creation vs Evolution
Organic Residue Is 247 Million Years Old?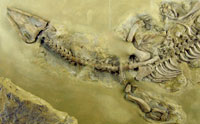 Those who have difficulty accepting reports of collagen (a type of protein) preserved in supposedly 80-million-year-old dinosaur bones will scratch their heads with new vigor over a recent report. Supposedly 247-million-year-old fossils from Poland show signs of excellent preservation and even hold blood vessels. More...