The Overwhelming Evidence in support of Creation vs Evolution
Were Sauropods Wading in China?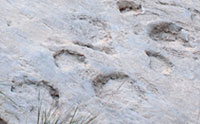 It's tough to beat a genuine dinosaur trackway for a fascinating glimpse of ancient life. Among the frozen tracks of giant, four-footed sauropod dinosaurs like Apatosaurus now frozen in stone, most preserve both hind feet and "hands"—or in tech speak, the "pes" and "manus." But newly exposed tracks from Gansu Province in northern China have experts scrabbling to explain why they only preserve sauropod hind feet. More...