The Overwhelming Evidence in support of Creation vs Evolution
Homo naledi, a New Human Ancestor?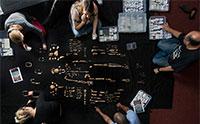 A BBC News story reported on September 10 the discovery of a "new human-like species" in Africa, stating "researchers claim that the discovery will change ideas about our human ancestors." As always, we at the Institute for Creation Research are extremely skeptical, taking such breaking news stories with a little more than a grain of salt. We have found that with more time and research, the preliminary spectacular claims of alleged "human ancestors" dissolve into a footnote, a non-story. More...