The Overwhelming Evidence in support of Creation vs Evolution
Solving the Missing Tropical Dinosaurs Mystery?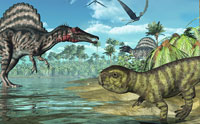 One of the unsolved mysteries of secular science is why so few dinosaurs are found in rocks from supposed tropical regions, especially the Triassic system rocks. Jessica Whiteside of the University of Southampton, UK and her colleagues from eight other institutions have proposed a solution to this enigma. More...