The Overwhelming Evidence in support of Creation vs Evolution
New Finds Reveal Fully-Human Neandertal?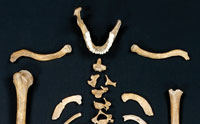 The case for Neandertals as more primitive members of an evolutionary continuum that spans from apes to modern man continues to weaken. Genetic and archaeological finds are completely reshaping modern concepts of Neandertal men and women. More...